Jane Eads Bancroft, ca. 1920s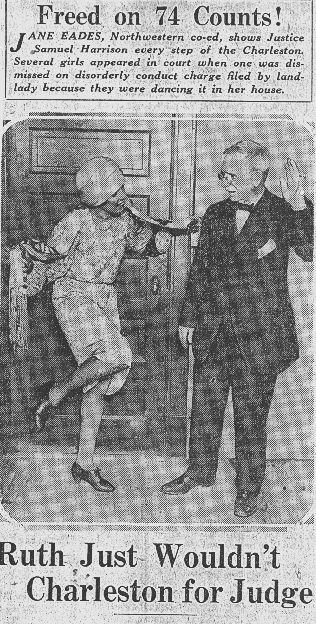 Story Reads: That most shy and bashful of all creatures--the Charleston dancer--appeared in goodly numbers yesterday in the courtroom of Justice Samuel Harrison in Evanston, but so retiring and reluctant to perform were they that the judge, dismissing disorderly conduct charges against one Northwestern University co-ed, could not find out whether it is a parlor game of shinny or a horserace.
Miss Dorothy Cope, a senior at Northwestern University, charged with disorderly conduct by her landlady, Mrs. Anna C. Olsen, 1224 Oak av., Evanston, was unable to show the judge the step, having a broken leg. And thirty other co-eds, most of them members of the Delta Gamma sorority, some of whom were at a party in Miss Cope's home and helped make the noise of which Mrs. Olsen complained, stood by and failed to volunteer.
"What is it?"
"What is this Charleston, anyway?" asked Justice Harrison. "As far as I know it's a city in South Carolina. Can somebody please show me what it is?"
No action.
"It's a dance invented by colored people," said Mrs. Olsen. "Miss Cope was entertaining her sorority sisters and they danced until 2 a.m. one night, and then started up again at 3 p.m. It seemed as if the ceiling was going to cave in. When I telephoned Miss Cope and complained she said, 'Oh, heck!'"
"But the Charleston is not a crime, is it?" the justice asked City Attorney Erwin Stolle. He replied that it is not.
So Girls Go Free!
Mrs. Olsen suggested that Dorothy's sister, Miss Ruth Cope, do the Charleston for the judge's edification.
"She can do it fine," said Mrs. Olsen. "She's not so heavy on her feet. But it's an improper dance, and I won't have it in my house."
But Ruth did not perform. Neither did Lillian Helmkamp, nor Martha Osgood, two other co-eds who Charlestoned to Mrs. Olsen's displeasure. Unable to find any evidence of disorderly conduct, the judge dismissed the charges.
After court, however, the judge was initiated into the idiosyncrasies of the dance by
Jane Eades [sic], who showed him some of the most difficult of the seventy-four steps. There were no casualties, but the judge very energetically mopped his brow after the "encounter."
Later Mrs. Olsen was arraigned on a charge preferred by Miss Cope that she had failed to furnish sufficient heat to their apartment. The co-ed said this complaint by her was the chief reason for Mrs. Olsen's reprisal.
Richard T. Lindsay, city sanitary inspector, testified the city ordinance had not been complied with and Mrs. Olsen was fined $25 and costs.
---
Return to Eads Photos | Oral History Home Page | WPCF Home Page